We both really didn't know what to expect on this trip, so we really didn't have any expectations other than to have a lot of fun! So, as of day 2 of the trip, our expectations have been exceeded! 
First of all, I know everyone was very worried about my condition during the plane ride over... 
But I did SO GOOD! Mom, you would be very proud!
I wasn't scared once! (okay, maybe when we started to descend, but that is a major improvement!)...
Kayla and Nathan, thanks so much for the bag of things for the trip! They are greatly appreciated!...
SKYLINK??? I guess we aren't up to date on the world and its new inventions! This was soooo fun! Kinda like a roller coaster ride!  
Here we are riding the Skylink in Dallas to another terminal...
We finally got to Cancun, and we finally got to see the BLUE water! It is sooo pretty and just like the pictures from all the postcards and calendars!
Here is the view from our balcony, and here is the view of our resort...
The food here is a lot better than what we expected. There is a lot of choices! There are 5 different restaurants at the resort and one snack bar. Since everything is inclusive, we get to eat whatever we want, however much we want, and whenever we want...which we have discovered is a bittersweet thing that we have definitely been taking advantage of. So far, our favorite place to eat is a restaurant called Margaritas...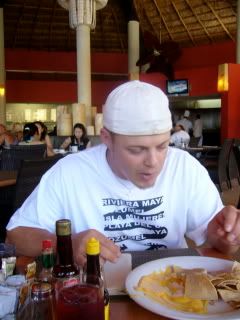 Today, we did two cool things...
1.  A couple's massage...
2.  And, some tattoos...
This vacation has also been very educational! 
 All of the employees here are very hard working, nice people! They are always quick to help! Did you know that the minimum wage in Mexico is only $4 a day? So, even though this trip is all inclusive, tipping is kind of an unspoken thing that is done. 
We are also learning a bit of Spanish.
We have also learned that it is okay to walk around topless (which a lot of old women choose to do.) I didn't think Brandon was even caring, nor looking. But when I asked, "Whoa, did you see those ones that were pierced?!" he said, "Uh huh..." Haha...so yeah, right...
Well, tomorrow we are going to this park called Xcaret. We will be swimming through natural caves, snorkeling, snubaing, riding water rides, and watching a Mexican show (kinda like our play "Texas")
Now we are heading to go eat some TexMex and then off to Karaoke night at the "Nice Shoes" bar. Adios!